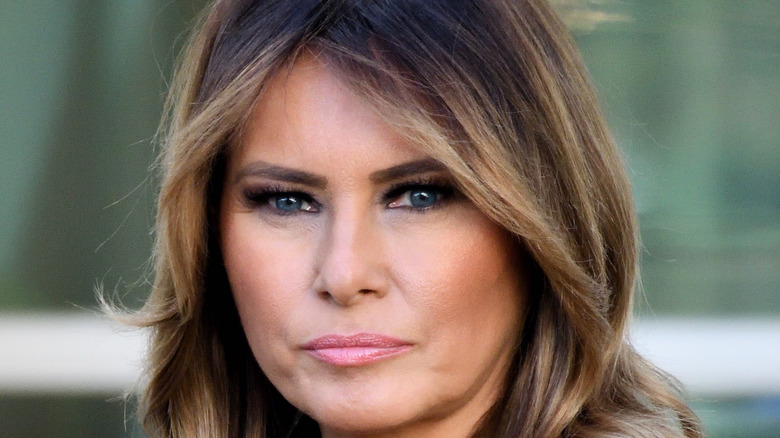 The Trump family has followed very different paths in the year since the former president Donald Trump reluctantly relinquished his spot in the White House. While Donald is busy weighing the possibility of running for president for a third time, per Insider, the former first lady Melania Trump has been keeping a low profile. This is not surprising for a woman whom the Secret Service allegedly called "Rapunzel" because she rarely left the White House during her husband's term, The Washington Post reported.
However, Melania recently caught the attention of many when a new post appeared on her official website. According to CNN, the former first lady is auctioning off the white hat she wore at the White House back in 2018, when the French first family, the Macrons, visited the United States. Melania's office also confirmed that the former first lady will auction off a watercolor by the French artist Marc-Antoine Coulon, and "an exclusive digital artwork NFT with motion."
Melania's office stated that some of the proceeds from the auction will go towards the former first lady's Be Best program. However, it hasn't been revealed how much will be donated. Naturally, the auction made headlines and sparked chatter on the talk show circuit — one show in particular. The hosts of "The View" had definite opinions and didn't hesitate to air them.
The View co-hosts joked about Melania Trump's auction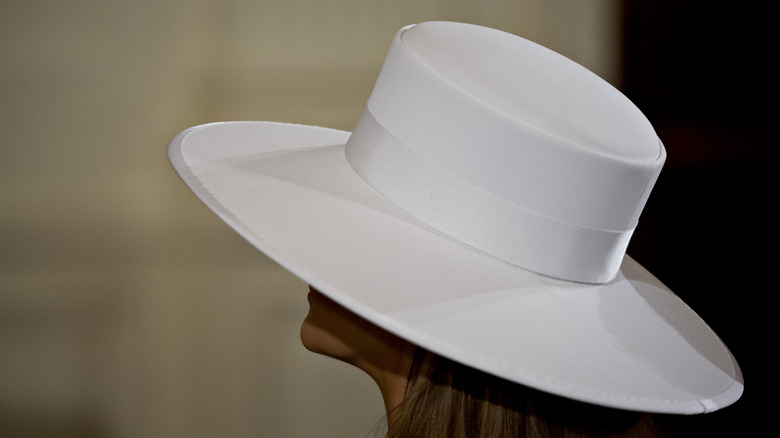 Per Melania Trump's website, a portion of the proceeds from the auction of her White House mementos will go toward providing technology education to children in foster care. That left the stars of "The View" wondering whether Melania will be keeping the rest of the six-figure profit for herself. Sunny Hostin guessed that the former first lady was making "an exit plan" just in case her husband gets into further legal trouble. "Melania probably needs money, because she hasn't really done much in terms of a career," Hostin mused (via Decider). "I think it sounds a little bit desperate," she added.
Calling the Trump family "grifters," Joy Behar also joked that the amount they plan to give to charity will add up to "75 cents on the $250,000." Ana Navarro agreed with the "grifter" assessment, adding that the auction is "tacky" but "on-brand." She joked about the NFT (non-fungible token) artwork, too. "I'm wondering if someone has explained to Melania that NFT doesn't mean 'No Freaking Trump.'" Meanwhile, guest panelist Yvette Nicole Brown summed it up as "Grifts-R-Us."
For those presidential memorabilia collectors with extra money to burn, the Head of State Collection auction bidding will run from January 11th to the 25th. The former first lady held a similar auction in December 2021, this one an NFT of another Coulon portrait of her eyes.