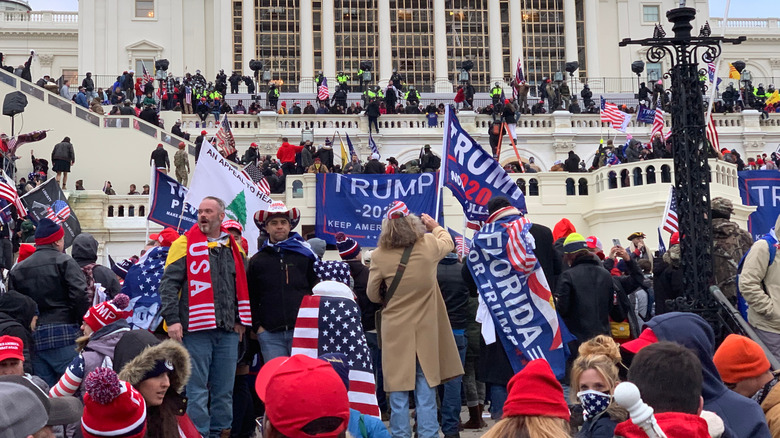 The events at the Capitol on January 6, 2021 will undoubtedly be added to high school history books, and we continue to learn more about the attack on the Capitol via the House Select January 6th committee. From the hearings, we've heard that then President Donald Trump's tweets and comments about election fraud directly helped galvanize his supporters to take action, via ABC News. We also heard from Cassidy Hutchinson, a former White House aide that Trump allegedly threw a plate of food at the wall after hearing that Attorney General Bill Barr said there wasn't evidence of election fraud — Trump later said Hutchinson had mental problems. And there's more to uncover; the committee isn't done in their questioning. Republican Vice Chair Liz Cheney said "Doors have opened, new subpoenas have been issued, and the dam has begun to break," according to NPR.
The Capitol riot injured over 140 police officers, caused millions of dollars in damage, delayed the certification of the electors, and officially caused five deaths, per LA Times. More than 900 people have been charged for their involvement in the January 6 attack, and charges range from obstruction of an official proceeding to assaulting the police to seditious conspiracy, according to Insider. As of this writing, the 10 year prison sentence of a retired NYC police officer is the longest of anyone involved with the January 6 riot, per The New York Times.
Donald Trump would consider full pardons for sentenced January 6 rioters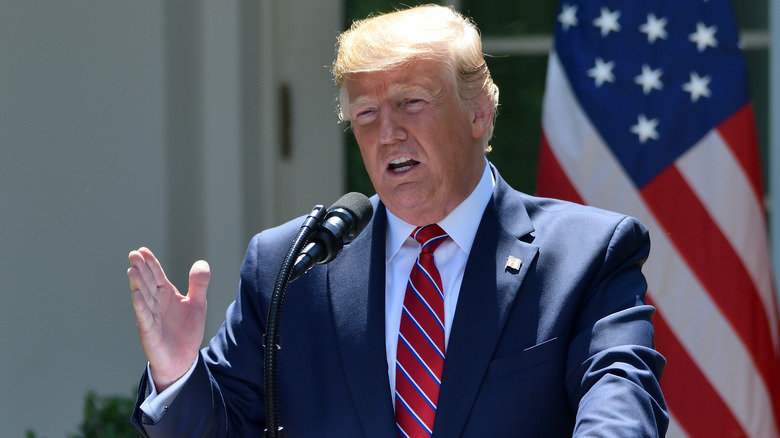 As the rioting unfolded at the Capitol, according to the House committee, Donald Trump watched on television, and tweeted about Mike Pence and about the election being stolen, per The American Presidency Project. In a video on the day, he said to the rioters "Go home, we love you," according to NPR. In outtakes of a video for the next day, Trump recorded on January 7, 2021, he refused to say that the election was over. And his love for his supporters on January 6 continues.
In an interview with radio host Wendy Bell, Trump didn't say whether he'd be running for president again, but he noted that if he does run and does win: "I will look very, very favorably about, about full pardons," in regards to those who have been charged in the January 6 attack, per Reuters. Along with potential pardons, he said that he'd issue an apology to many of them, according to The Washington Post.
Of those charged, but without mentioning anyone specific, he said "I am financially supporting people that are incredible and they were in my office actually two days ago. It's very much on my mind. It's a disgrace what they've done to them."