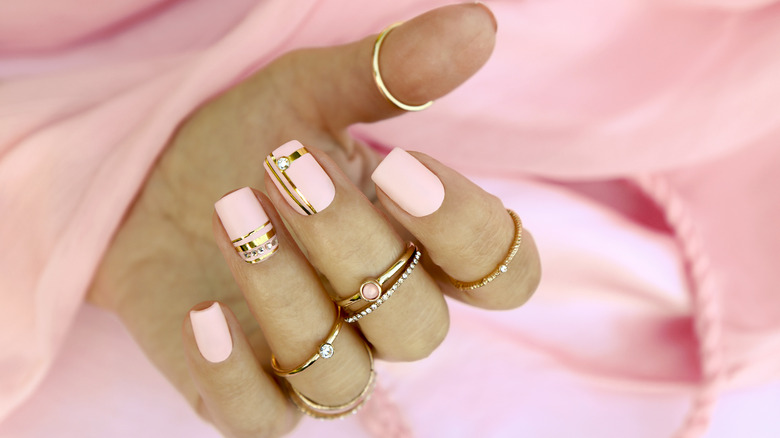 Getting a manicure is one of the best self-care practices you could incorporate into your bi-weekly beauty routine. It boosts your confidence, maintains your nail health, and helps you feel like you have your life together (even if you really don't). However, getting a manicure does come with a few stressful choices that will contribute to the overall look of your nails: the color, the design, and the shape.
If you're stuck on what shape to go for, you may want to consider square nails. Yes, oval nails had their moment in 2022, but according to the pros, we'll see a shift toward square nails in 2023. Celebrity nail artist Holly Falcone told The Zoe Report, "Long nails are always going to be iconic, but I foresee shorter nails becoming more popular in 2023." She says, "In addition to a shorter nail length, the trending shape is likely to be more square or squoval," (AKA a square/oval hybrid).
And the good news is anybody can pull off square nails, especially those with "long, narrow nail beds" and who prefer a low maintenance style, according to nail brand OPI. Plus, if you can't give up your acrylics, the square shape is a perfect choice, providing plenty of space for fun and trendy designs. Once you've landed on the square nail shape, it's time to narrow in on the color and design. Need some help there, too? Here are 40 manicure ideas that are perfect for square nails.
All glitter everything
Why have only one glittery party nail when you can have 10? Spice up that solid nail color with a coat of silver glitter, as seen on nail specialist @lupaenails' TikTok video. While glitter is the perfect girly touch on top of soft pink nails, it can be dusted on top of any color and still look gorgeous. You may want to ask your technician for loose nail glitter instead of iridescent glitter polish for that full-on packed sparkle nail look.
Natural, sleek, and polished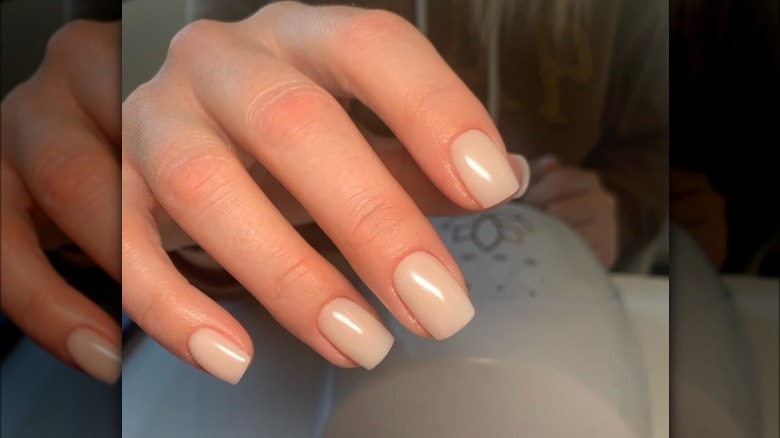 If you prefer a natural manicure that's sophisticated and sleek, then reach for a neutral color like Paris-based nail and beauty tech @nails_by_l92 in an Instagram post. A nude color is perfect for short nail lovers, especially with a square shape. Plus, they look great for any occasion, whether a lavish wedding or a low-key coffee date. And, as if it couldn't get any better, simple nude nails can be coordinated easily with any outfit. What's not to love?
French tip with a twist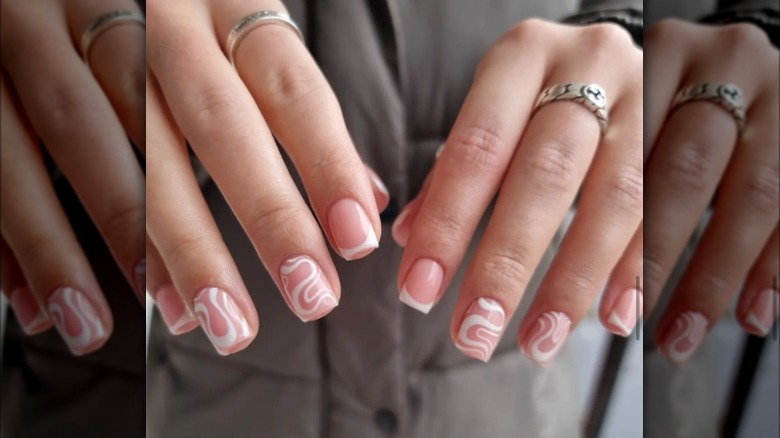 The modern French manicure is a classic choice that never goes out of style. It can be painted on top of any nail shape and looks beautiful on everyone. However, if you're tired of the basic French tip, you may like this twisted version seen in an Instagram snap shared by @frenchmenails. While a few nails in this set have that classic French tip, others have some white swirly designs, which add a playful touch to an otherwise simple look.
Celestial-inspired
Take those nude nails to the next level with a gold celestial design, complete with colorful nail gems in the center. This nail inspo shared by @ewilson81503 on TikTok is perfect for those who love a slight sparkle, can never say no to a nail gem, and are looking for fresh ideas on how to incorporate them into the design. This manicure is especially ideal for those who tend to opt for long acrylic nails since there is plenty of space to create a few stars on each nail.
Classy black and nude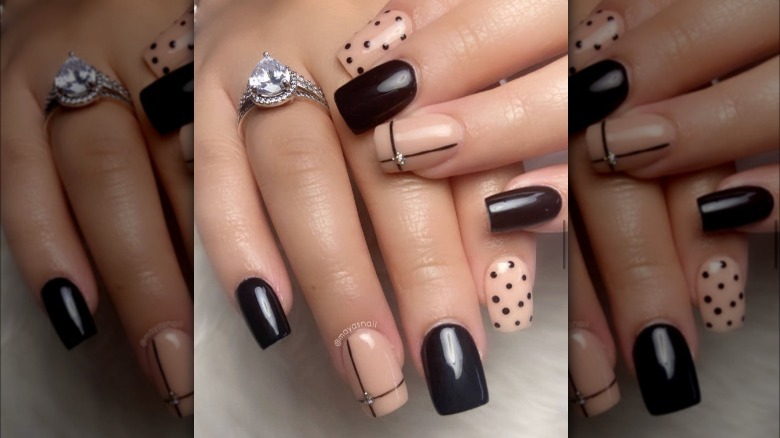 Is there a more iconic and chic pairing than black and nude? This color coordination is gorgeous, especially when each nail gets its own design like @soymayasbeauty shared in an Instagram photo. Add black polka dots to one nail, a sleek cross design on another, and solid black on the rest for a cohesive, modern look. The designs are simple, with the right amount of playfulness while keeping the look clean. You may not categorize polka dots as chic, but with a black and nude color palette, they totally are!
Confetti vibes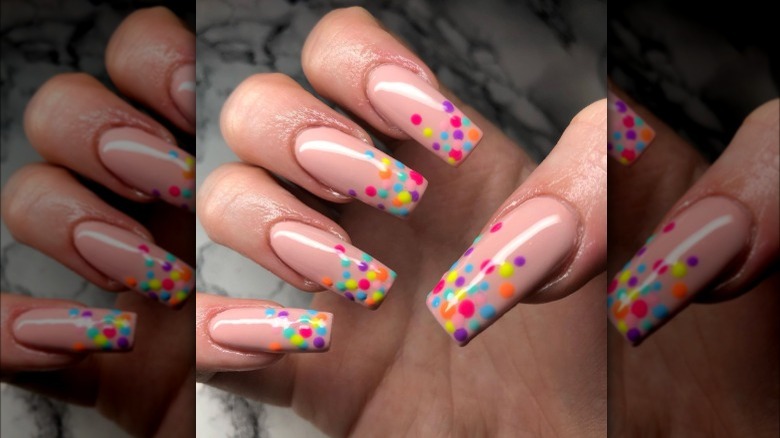 It doesn't have to be your birthday to enjoy a confetti moment. Take every colorful shade of the rainbow and incorporate them into each nail with tiny confetti-like dots, as seen in an Instagram post by nail technician @well_gel_nails_by_jayne. While this look has the confetti dots more toward the tip of the nail in an ombré fashion, you can cover the entire nail or do a reverse tip at the base of the cuticle. Nothing says fun quite like colorful dots, but if you want to tone down the rainbow look, you can opt for two or three colors for a more cohesive vibe.
Eye love you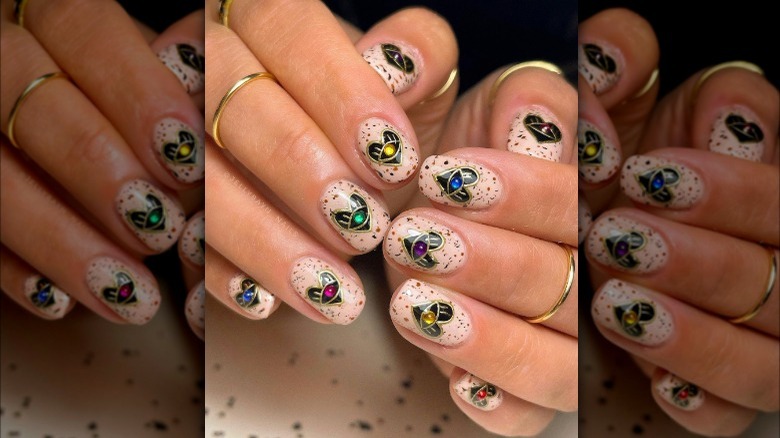 Add a playful touch to your nails with a gold heart. But not just any heart — a heart with an edgy rhinestone "all-seeing eye" in the center. This manicure by @jellybayn_nails is nothing short of eye-catching, which has collected over 1,700 likes on Instagram. The base of the manicure has a nude-speckled look, which keeps the nail busy without overcrowding the design. Plus, each rhinestone in the center of the heart is a different color, which gives a fun pop.
Cherry tips
Are you looking for a simple design to spice up your natural nude nails? You'll love these cherry tips! Nail care company @lightslacquer posted a TikTok video sharing a cherry tip look, and it's so simple to do yourself. All it takes is red and green nail polish, a small precision brush, and a steady hand to create a cherry at the corner tip of each nail. Top it off with a shiny clear coat of polish to lock it all in.
3D art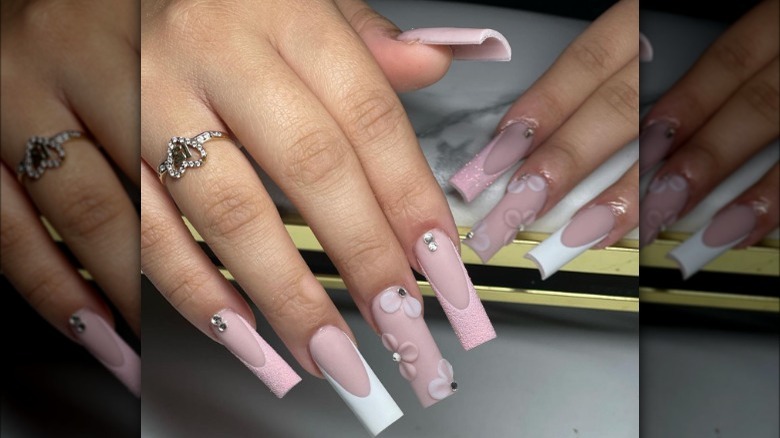 For the girlies who can't stay away from a dramatic, glamorous nail, consider incorporating 3D art into your set. California-based nail technician @nailsbyashleey_ on Instagram posted this photo of a soft pink acrylic manicure with 3D flowers and rhinestones for a va va voom look. The square nails on this set are really long, allowing the 3D design to flourish and pop. But even if you prefer a shorter nail, you can add one 3D flower and still ace the look.
Forest green and sage meet chrome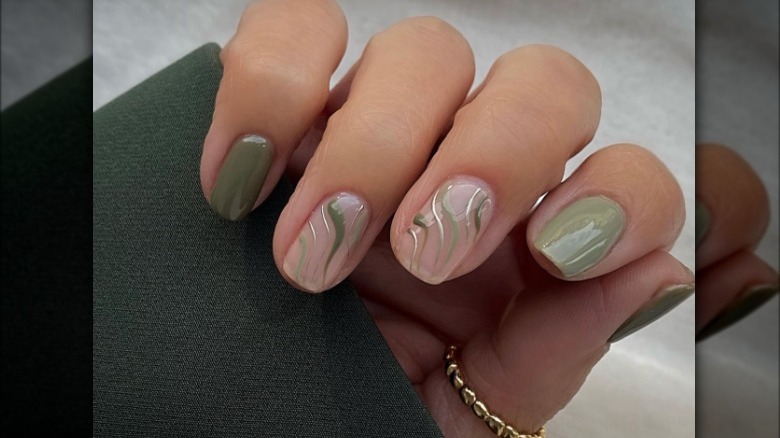 Just because you love a warm-toned manicure doesn't mean the colors must be in the brown color palette. Enter: forest green and sage nails with a chrome twist. UK-based nail artist @lindseysbeautylounge1 shared an Instagram photo of her neutral green square set, with a swirly design on the middle and pointer fingers for a fun touch. If you're a gold gal and prefer to reach for gold jewelry over silver, you'll love this green and gold chrome look. Top your digits off with gold rings to really complete the look.
Geometric chic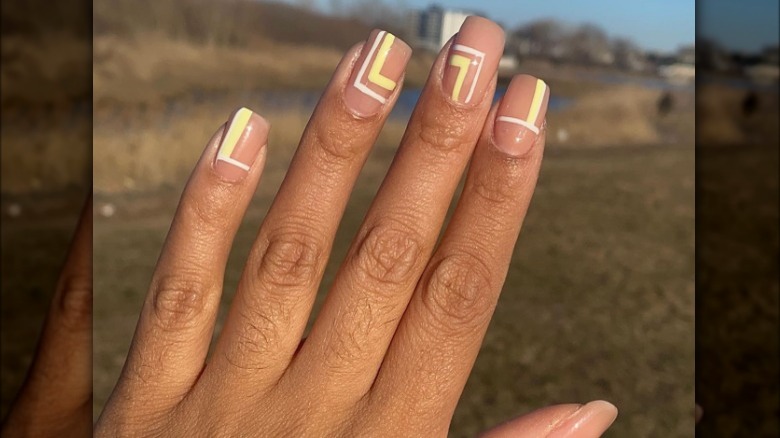 Step outside the box and play with edgy geometric shapes and patterns, as seen in this nail inspo post by @preciouslypolished. These square nails have a nude base coat with white and yellow geometric half box shapes and lines. Geometric designs are an excellent choice for those who prefer sophistication and structure but still want to add some playfulness to the look. If you prefer to keep the color palette dark, reach for black, plum, or navy blue colors instead.
Rhinestone polka dots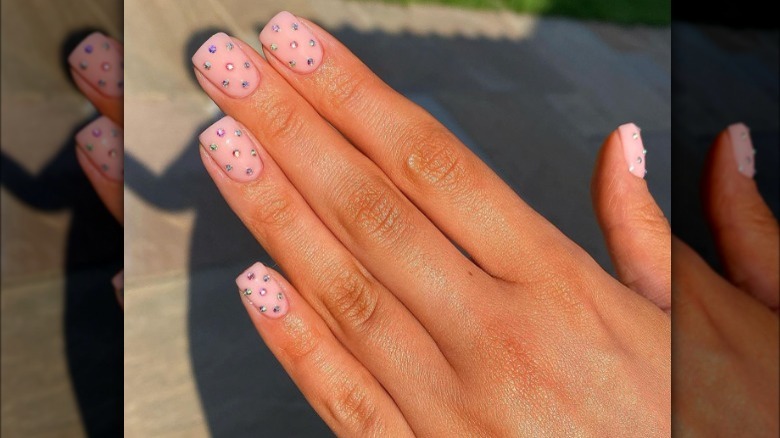 Raise your hand if you live for a rhinestone moment. Us, too, can't stay away from the trendy nail gems, and what better way to add them to the look than in a polka dot fashion? Nail artist @mel_vivalasnails on Instagram shared this nail look that includes rhinestone polka dots on a pink nail, and we're obsessed. You can choose any base nail color you want for this look, as the focus is, of course, those rhinestone dots. Scale back the look depending on your taste, and only have one bedazzled nail if preferred.
Not a rhinestone fan? Try pearls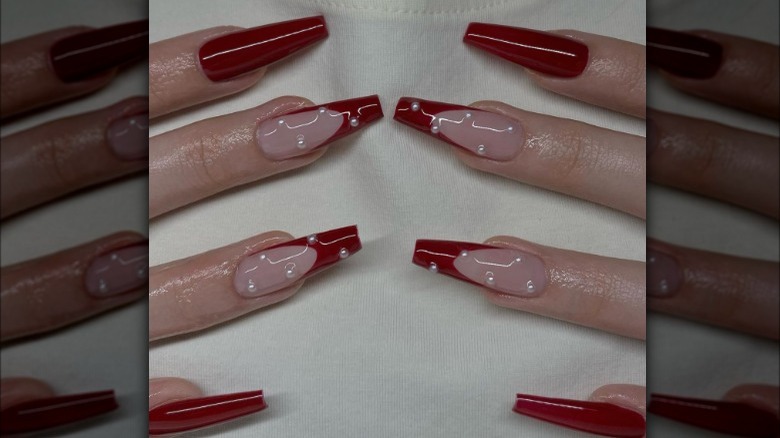 We know not everybody is a fan of the dramatic nail gem, and that's okay because there are always pearls. That's right, pearls. This square-shaped manicure shared in an Instagram photo by @myshell.nails collected over 21,000 likes, and we can see why. Stunning! This look takes a classic red French tip to a whole new level, with tiny pearls scattered throughout each nail. The color red looks gorgeous when topped off with a set of pearls. And when combined together to create a cohesive manicure, it's so chic.
Soft milky white
We know that #WhiteNails are a major fan favorite, with the hashtag gathering over 432 million views on TikTok, so of course, we needed to show the trend some love. However, instead of going stark white, try a soft white shade like @janeebarbre shared in a TikTok video. Her white nail polish shade has a subtle hint of pink. Combine that with the short square shape, and you have a manicure that is soft, delicate, and pretty.
Glittery French tip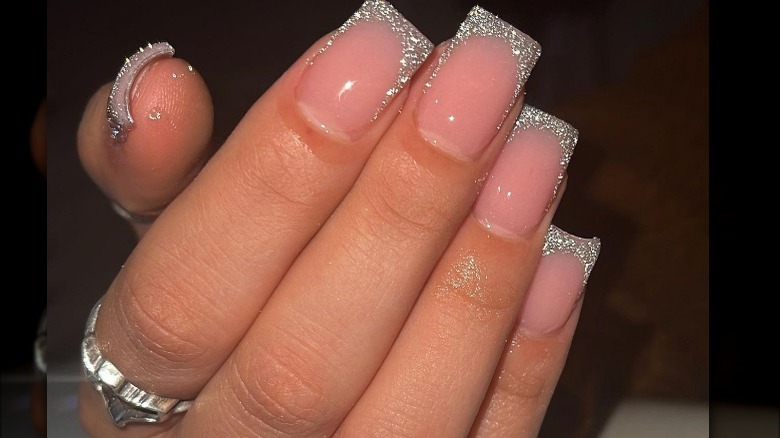 Another twist on the classic French manicure that looks perfect on a square nail shape is a glittery French tip. Nail technician @nailsxemily shared a post on Instagram captioned, "Look at that sparkle," and we can't stop looking. This French tip extends lower on the sides, giving a structured look. The glittery French tip is an excellent choice for those with short square nails but can even work for long acrylic nails as well, especially when paired with a thicker French tip.
An updated party nail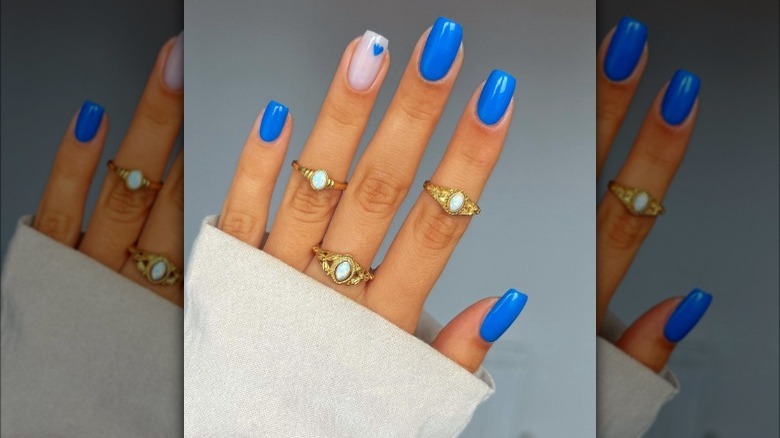 Remember when the glittery party nail on the ring finger was all the rage in the 2010s? While it's still seen on nail looks today, this manicure shared by Instagram user and nail artist @allnailss._ has a modern and classy twist — no glitter required. An all-blue look, this short square nail set has a white nail on the ring finger, with a simple blue heart to pull the entire look together. If blue isn't your favorite, feel free to exchange it for a neutral vibe of brown and nude shades.
Purple chrome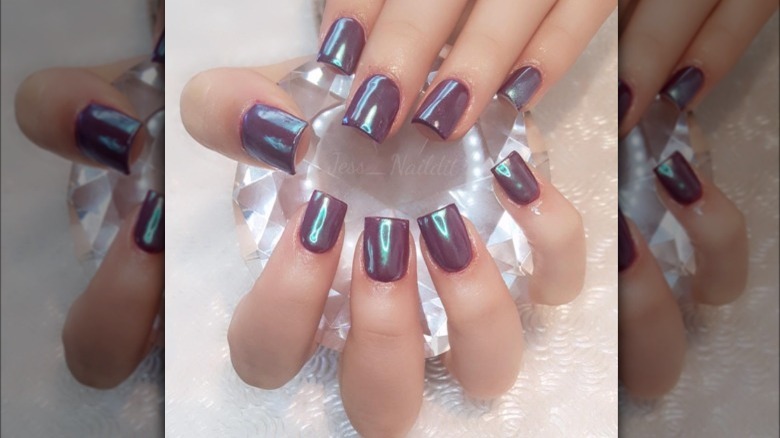 If you're looking for a fun yet sophisticated manicure, look no further than a chrome nail look — aka opalescent nails, which are the new glazed donut nails. However, you don't have to stick with neutral white and brown colors like everybody else to participate in the trend. Instead, spice it up with your favorite color, like @jess_nailedit in an Instagram photo depicting a chrome purple manicure. Chrome polish is trendy and everywhere right now, especially because its mirror-like finish is a chic elevation from traditional glitter looks.
Pretty in pink
This square-shaped manicure shared by San Diego-based nail artist @annmarie_nails_ in a TikTok video is a hybrid between a glittery French tip and solid pink nail color. Feel free to swap the pink with any color, keeping the look monochromatic with a matching glittery French tip. The glitter adds dimension to the solid pink color, giving sparkle and shine to the manicure. If you want to ditch the glitter, add a solid French tip to the look, keeping the base color and French tip shade close for a cohesive look.
Colorful neon flames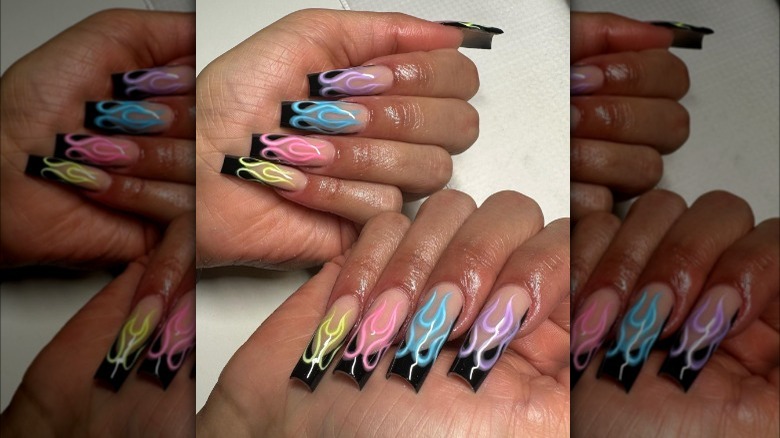 Want a bold nail design that's both edgy and colorful? Neon flames on a black French tip base is an excellent choice. Nail artist @o.g.nailz posted this photo on Instagram, with the design sitting on long square acrylics. The contrast between the black base and florescent flames is eye-catching and bold, giving a dark twist to the Skittles nail trend. Plus, the super long nails complement this look perfectly, allowing the flames to burn bright in all their neon glory.
Abstract faces
When you think of abstract art, Pablo Picasso may come to mind — not nail designs. However, we're here to show you that it can be done on nails too, especially when it comes to abstract faces, as seen in @nininailstampa's abstract face nail art look. The black outlines of the abstract faces on top of a white base adds to the simplicity of the manicure, making it look extremely modern. You can also add a pop of color to the faces to provide them with that artsy and niche vibe if preferred.
Red hot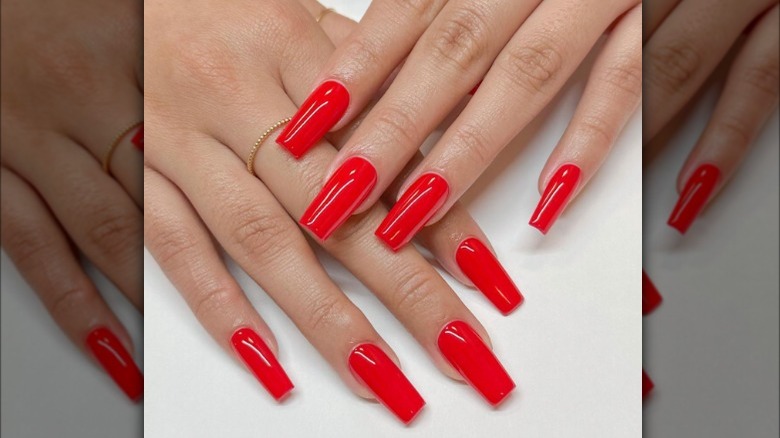 A classic red nail is sultry, powerful, and timeless — no nail design necessary. When paired with a square shape, the overall look is nothing short of classy. There are so many red shades to choose from, whether dark red or bright fire red, like this snap shared on Instagram by @glossy.studios. The best part is you can wear the nails short or long, and they will still have that sophistication factor. Pair it with the universally flattering red lipstick for a maximum red hot effect.
Ombré Skittles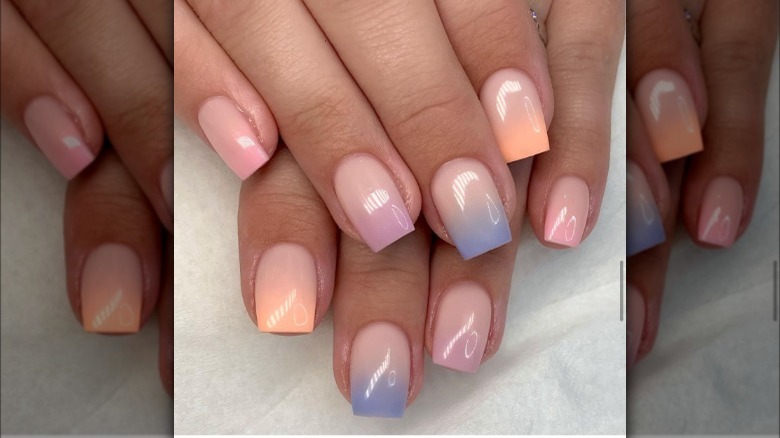 If you're familiar with today's nail trends, then you've definitely heard of Skittles nails, where each nail gets its own designated color, reminiscent of the sweet and colorful candy. You could join in on the fun and paint each nail a solid color, or go the ombré route like this nail inspo post shared by award-winning nail tech @natsnailbed_nailartisteducator on Instagram. This set includes pastel colors of orange, blue, pink, and purple to create a delicious, candy-inspired ombré look.
Black and white chic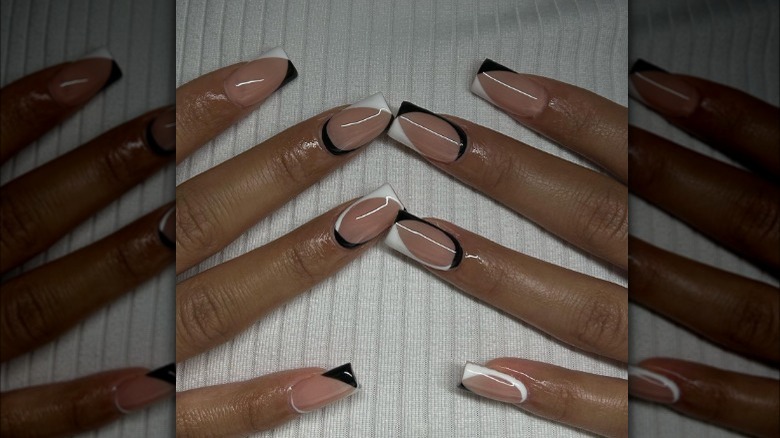 A classic black-and-white nail design is always in style. It's chic, sophisticated, and looks gorgeous when paired with any outfit. This manicure shared by Arizona-based nail artist @setsbysenia showcases an elegant black and white French tip-esque nail design with a super glossy top coat. This manicure will work on any length of nails, as it doesn't require a lot of space to achieve. For a subtle and neutral vibe, swap the colors in this manicure with shades of brown and nude.
Springtime floral
Nothing makes us happier than when the flowers begin to bloom in the spring. So, when we see a perfectly painted floral design on a long square nail, we can't help but get excited. Nail artist @zenluxenails posted a TikTok video of colorful springtime flower accent nails, complete with pink tips. Floral prints are a standard design in nearly every nail salon, and this simple flower has a modern edge that we love. For those with long square nails, you can cover the entire nail in a few flowers. One single flower will do for short-nailed beauties.
Delicately structured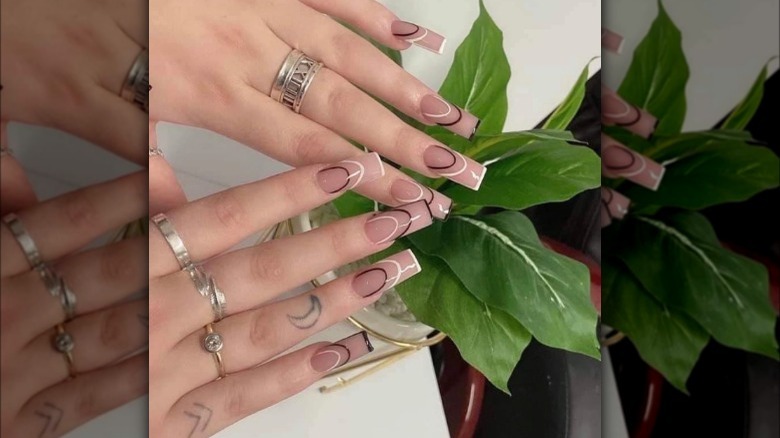 Add some geometrical structure to your nude and simple nails, like this look shared on Instagram by @luxury_nails_brighton. The neutral color palette of chocolate brown and white adds to the chicness of the look, with rainbow-style arches and a straight edge along the tip. It's busy but also simple, giving a classy and contemporary vibe. This look is best suited for those with long square nails, so the entirety of the design can be painted on with plenty of space.
Rich chocolate brown
Many prefer to paint the entire nail one color and skip the design entirely. If that's you, you should really consider a deep chocolate brown color, as seen in a video by TikTok creator and nail artist @yodeebs, which has collected over 276,000 likes. This rich color looks gorgeous on short, square-shaped nails, providing a luxurious look. Plus, a brown nail color looks lovely on any skin tone and can complement various outfits, making it a go-to color for many.
You're a star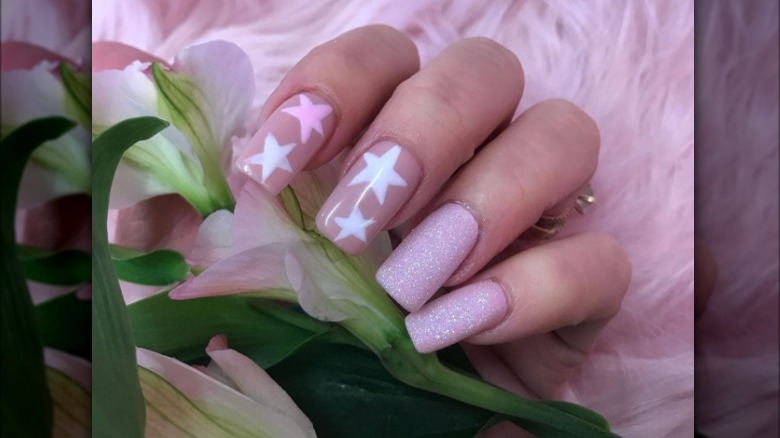 Take a classic nail design, like a star, and incorporate it into your next manicure. Nail artist @nina_nails_beauty_ shared a star-studded nail look on Instagram, with pink and white stars on a nude nail. Baby pink is a popular color for nail looks, which is seen here, but you can replace that shade with any color of the rainbow, depending on your personal style. Remember to pop a bit of glitter on the rest of the nails for that extra oomph!
Gold specks to spice up a matte nail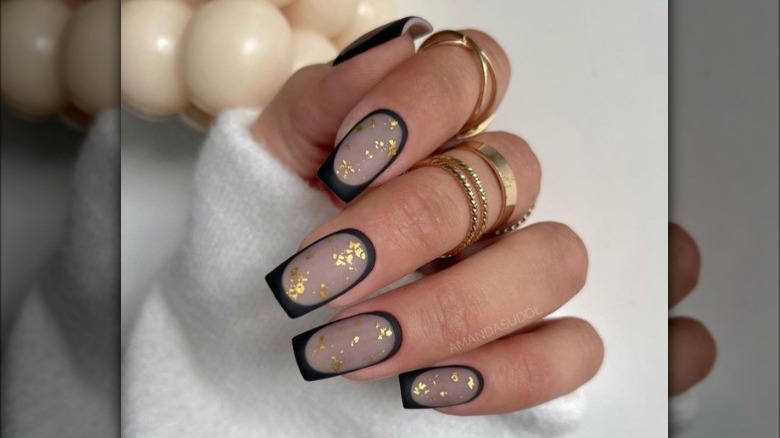 When you want to add a pop of shine to your matte manicure, reach for gold specks. This nail look shared by @pazurki_official on Instagram shows a matte mauve square nail with a black outline and shiny gold flakes sprinkled throughout. The gold specks add the perfect amount of shimmer and shine without the need for any glitter, giving an elevated and sophisticated vibe, especially when paired with a neutral color palette. Deck those digits out in gold jewelry while you're at it!
Warm neon lights
Go bright or go home with this playful neon design. Perfect for those who appreciate a fun and bold nail, this manicure shared in a TikTok video by Tucson-based nail artist @rosey.ridd has bright and warm colors of pink, orange, and yellow for a vibrant look. No need to paint the entire nail to play with neon nail polish! Stick to the warm color palette as seen here, or reach for colors of blue and purple for a cool-toned neon look.
Butterfly nails to make your heart flutter
Right next to the flower, the butterfly is a quintessential nail design that you've probably seen before. But check out how realistic the butterflies look on this manicure @nailsbymookie shared on Instagram. One single butterfly sits delicately on a few nails in this square nail set, which adds a gorgeous touch to a simple manicure. This post collected over 14,000 likes, and that's no surprise. It definitely takes a talented and steady-handed nail tech to re-create such an intricate design.
For the simple minimalist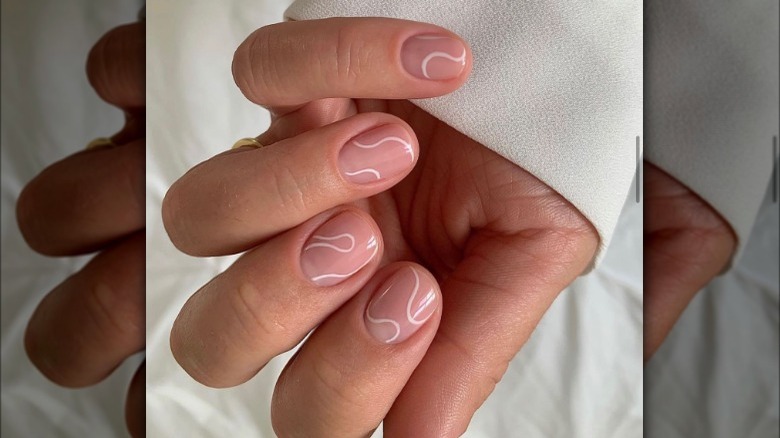 If you prefer a simple, barely there nail look with only clear polish and no crazy designs, then we have a manicure for you. California-based nail salon @eucabeautylounge posted this gorgeous nail look on Instagram, and it's perfect for those with short square nails who favor the minimalist look. The simple, thin white designs add just enough to kick that blank nail up a notch while keeping the integrity of the clean, bare nail. A shiny clear coat to finish the look is the cherry on top.
So groovy '70s vibes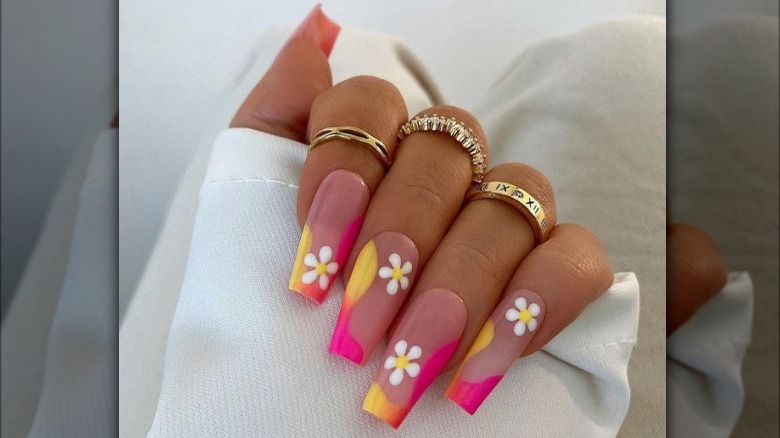 When you think of the '70s, do you think of bright colors, flowers, and retro designs? We do. Take a peek at these nails posted on Instagram by @kokonailbar_chesterfield, and tell us they don't scream '70s. We love the groovy vibe. Ideal for long square nails, the colorful retro design paired with pretty daisy flowers is a beautiful spring and summer look. Stick with the complimentary colors of bright pink and yellow, or play with other shades of your choice.
Shiny solid black
A solid black manicure isn't just for gothic teens and metal band members. The stylish and powerful color is chic and perfect for any season, especially the colder months. Nail artist @samanthahaste posted a TikTok video showcasing shiny, black square-shaped nails and the look is so classy. One of the top reasons to say yes to black nail polish is that it's suitable for any nail length or shape — and anybody can pull it off.
Each nail deserves its own little design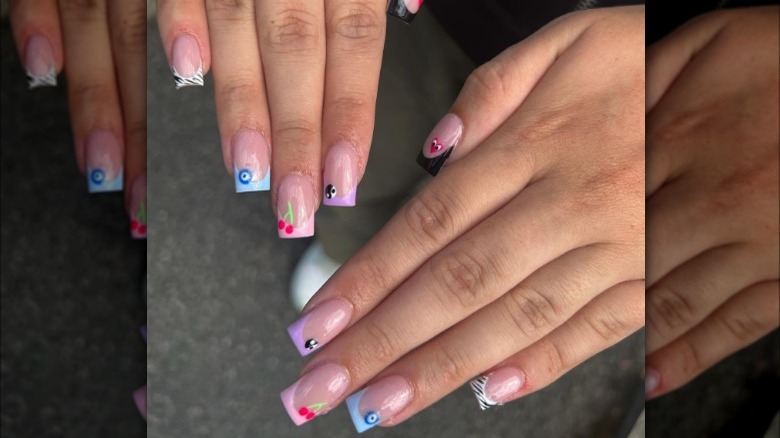 Can't land on a single nail design? No worries. With this manicure shared by @km_nailsxx on Instagram, you can pick five (or more!) little designs and put on each nail. Want cherries? Done. A yin-yang symbol? Go for it. Smiley-faced heart? Perfect. The options are endless! Especially when paired with colorful Skittles nails, the entire look is fun and perfect for those who don't take their nails too seriously. You can even incorporate animal print as one of the designs, as seen in the inspo photo.
Baby blues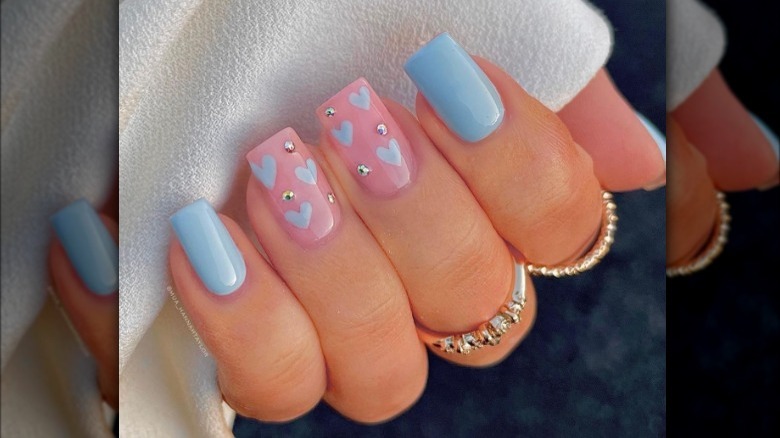 We love a baby blue nail moment, but why not spice it up with pretty painted hearts and rhinestones for extra liveliness? Makeup and nail artist @mua_hannahtaylor shared a baby blue nail look on Instagram, which racked up over 30,000 likes. Pastel nail colors are trendy during the warmer months, but this baby blue color offers versatility during the snowflake-filled winter months too. Pop a few glistening rhinestones on the square-shaped manicure for a completed look.
Spice up the nude nail with a neon dot
This is another one of those nail designs that is perfect for those who prefer a minimalistic look. Instead of leaving the nude, plain nail as is, add a tiny little neon dot at the nailbed for a fun pop of color. Take a peek at this TikTok video shared by @samanthahaste showcasing a sleek nude square manicure with a green neon dot delicately placed on each nail. Exchange that dot with any other color of your choice or even a sparkly rhinestone.
Animal print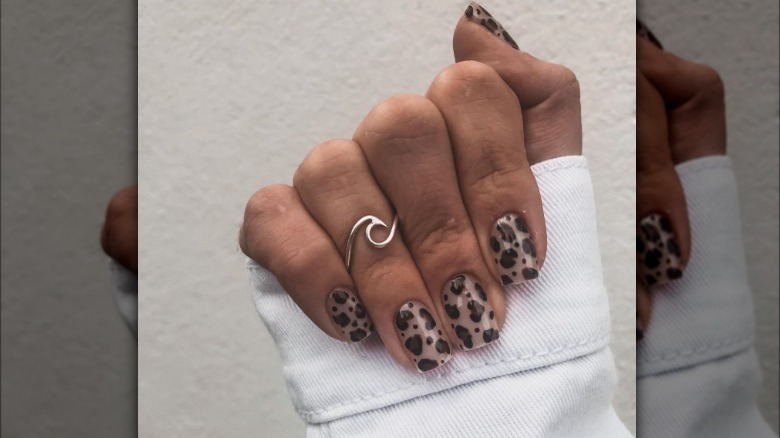 Ahh, animal print. From clothing and accessories to home décor and tattoos, animal print has been incorporated into many looks in the last few decades. And when it comes to nail designs, animal print certainly has made its mark there too. A major fan favorite is the nude cheetah print design, as seen in this Instagram photo by @sofynailart. The neutral color palette in this look makes it wearable for any time of the year and with any ensemble.
Glossy marble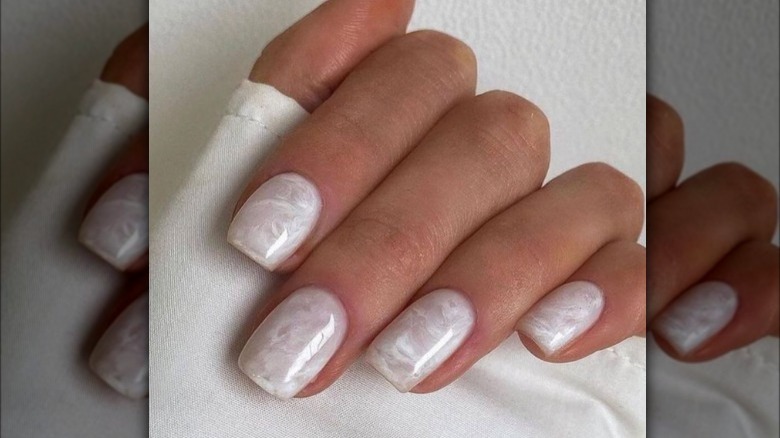 Marble manicures had a shining moment in 2022, with the hashtag #MarbleNails racking up over 340 million views on TikTok — and for good reason! Classy, shiny, dreamy, and chic, the marble nail design is oh-so-pretty. This white marble look by @nasia_nails_art_oakleigh was perfectly painted on top of short square nails, but long acrylic lovers can get the look too. The best thing about the marble nail design? It can work with any color.
Heart-shaped cherries
How about a super sweet manicure filled with heart-shaped cherries? This look shared by @anl_spa displays a simple white French tip manicure with delicate heart cherries painted on top. "Heart cherries are better than regular shmegular ones," the caption reads, followed by an eye-roll emoji and a red heart. And we agree. The fun shape gives a playful twist on a traditional nail design, perfect for those who are looking for a lighthearted vibe. Of course, the look is paired with a short square shape for a classy touch.
On cloud nine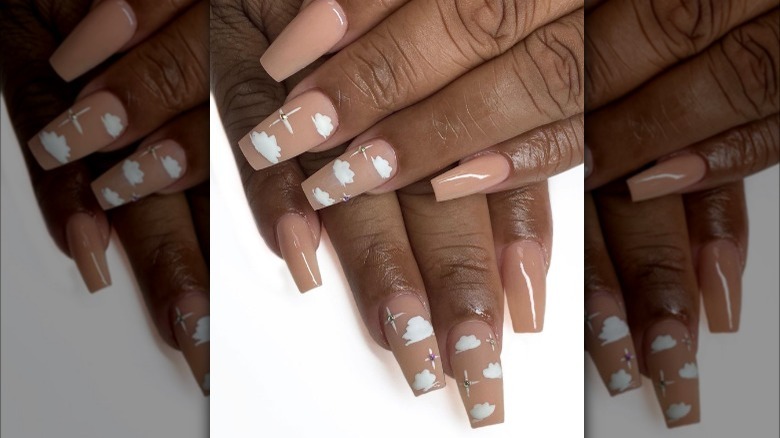 If you're looking for a whimsical and ethereal nail design, then you'll love this one. This cloudy look seen in an Instagram post by @platinumglabar gives major angelic vibes, complete with tiny rhinestones in the center of small white stars. The base color is a perfect warm nude, which ties the entire look together. However, you can swap that nude out for a pale blue shade for a pop of color. We have our heads in the clouds looking at this manicure (plus all the others on this list), and we know you will too.