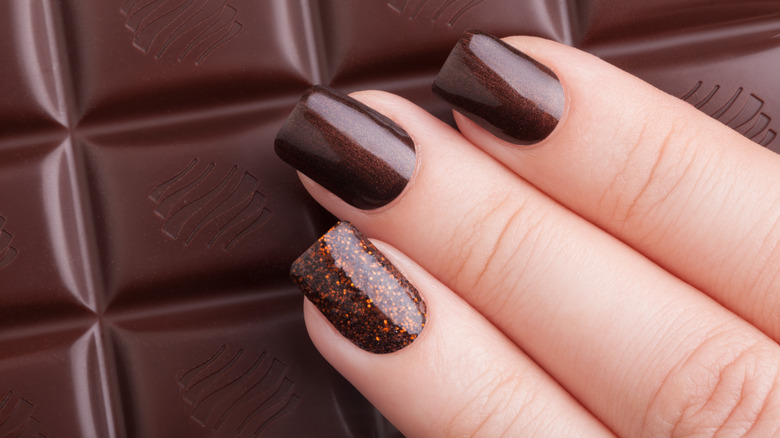 Brown is the new black. In the world of beauty and fashion, it literally goes with everything. There are brunette shades to fit every skin tone and brown lipsticks so rich you'll be tempted to taste them. Can you believe the color brown was considered ugly? Art in Context listed dark brown as one of the most unappealing colors. Apparently, its association with rotting food and dirt blurred its couture potential. However, the scales are dropping from beauty guru's eyes, and brown is getting the respect it so rightfully deserves.
TikTok's search for chocolate nails has over 57 billion views. This cozy color was a shoo-in for autumn as it highlights the red and yellow notes in fallen leaves, yet winter proves it is here to stay. Get in on this warm contrast to winter's cold before the season is over. Brown and ugly won't be associated anymore — hot chocolate nails busted that myth.
Warm brown manicures all winter season
Brown is the color for this season. Hailey Bieber's chocolate-glazed nails were all the proof we needed. This warm color is a true neutral that is the kiss of perfection on any complexion. Olivia Van Iderstine, vice president of content and creative for luxury salon Olive & June, couldn't agree more. The industry expert, who has worked with trendsetters like Kim Kardashian told Byrdie that "the chocolate nail trend is a '90s revival mani meets the on-trend color of the season."
The '90s popularized brown lipliners and lipstick. Decades later, the color resurged through chocolate nails. Celebrity nail artist Kait Mosh explained to Bustle that brown nails are perfect "for the monochromatic minimalist." The color evokes elegance with its rich tones yet fits naturally. It's as if your nail beds were meant to be brown. You can play up this chocolate trend with your favorite nail designs to personalize this hot color.
How to join the hot chocolate nail trend
The key to loving your hot chocolate nails is picking the right shade of brown. From beige to café noir, there is a hue for everyone. According to celebrity manicurist Deborah Lippmann, it's crucial that you "pay attention to your undertones, just like you would with reds or oranges" (per The Zoe Report). Your choice of brown should match your cool or warm tinge. With pink (cool) undertones, shades of ash, chestnut, and auburn will pair well. While honey, caramel, and amber browns fit yellow, or warm, undertones.
If a classic chocolate manicure is too minimalist, you can still join the hottest winter trend with funky nail art. Since brown is neutral, it can be styled with earth tones, like deep greens and blues, or other true neutrals, like black, gray, and white. Not only does it complement universal colors, but it also balances vibrant hues. Hints of the chocolate shade easily integrate into your Valentine's Day nails to mellow bright pinks or turn your favorite summer nail designs into winter-approved accessories.