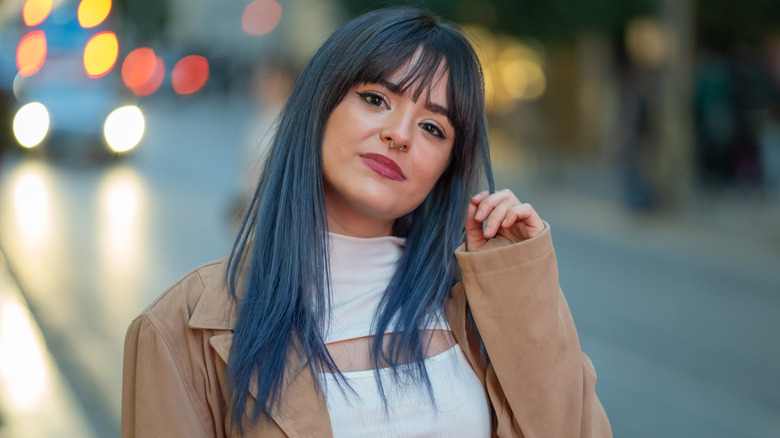 Today's hairstyles are all about creativity and risk. In the wake of the COVID-19 pandemic, drastic hair changes have become increasingly common, with more and more people opting for the viral "big chop" and others reinventing their looks with unexpected colors. Actress Florence Pugh did both, dip-dyeing her ends before debuting a bold cropped cut. As celebrity stylist George Northwood summarized for Glamour, "After spending so long in lockdown, people will be hungry for change." During times of uncertainty, we focus on the things we can control — in this case, our hair.
Nostalgia is at the core of today's most viral styles. These cuts combine elements from the past to create something new. The increasingly popular "mixie" cut is an edgy reimagining of the classic pixie, whereas the so-called "shullet" (a shag and mullet crossover) combines elements of popular '80s and '90s styles. Similarly, "moonlights" add a modern flair to the blonde highlights that have dominated the past few decades. If you're considering adding moonlights to your own luscious locks, here's what you need to know. Remember: when in doubt, consult a professional colorist.
Moonlights work best on dark hair
Adding moonlights to your hair isn't too different from highlighting it. Starting with a brown or black base, bleach strategic sections using the foiling method. Here's where it deviates: instead of toning these strands to look like they've been lightened by the sun, your colorist will apply a deep blue or purple dye onto the treated hair. Ultimately, the goal is to make it look like your hair is reflecting the moon (hence, "moonlights"). "It adds vibrancy and depth to darker strands without changing the entire hair color," Georgia-based hairstylist Melissa Dawn explains to Purewow.
Try out early 2000s chunky moonlights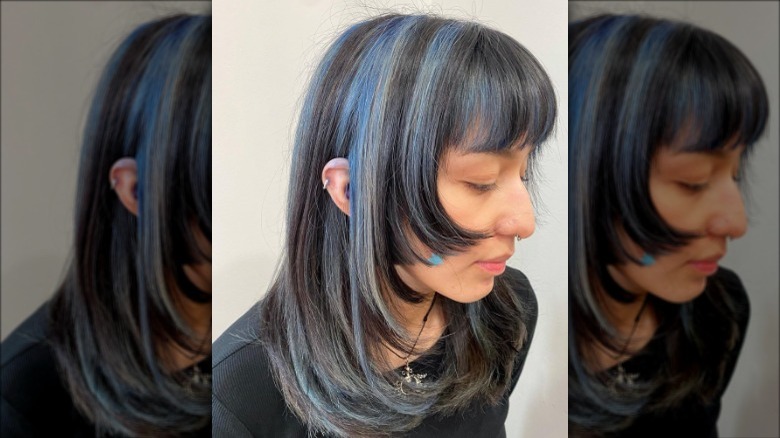 Celebrities like Lindsay Lohan and Kelly Clarkson were known for their chunky blonde highlights in the early 2000s. These parallel streaks defined a decade, along with low-rise jeans and Paris Hilton's graphic tees. Now, nearly 20 later, the style is coming back. This time around, switch it up with a touch of midnight blue or lavender dye. Or, test out the color first with Curl Smith's turquoise hair makeup — not to worry, it will wash down the drain after a single use. Pretty soon, you'll be ready to try moonlight "frosted" tips à la Lance Bass.
Experiment with multiple colors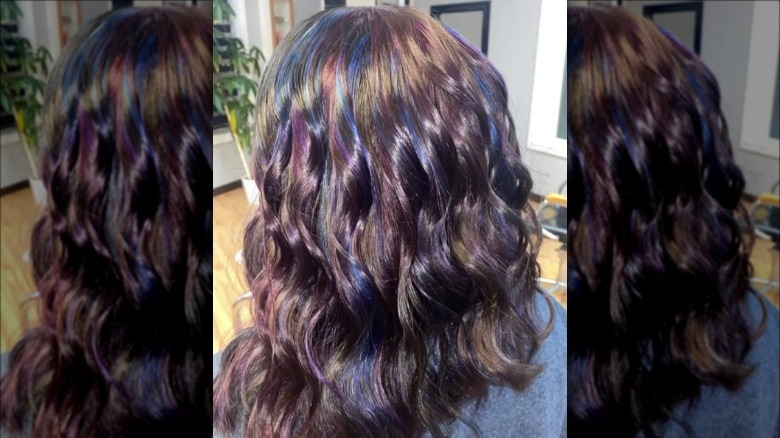 Why limit yourself to one color when you can elevate your "Starry Night"-inspired look with multiple? Combine hues of blue and purple to achieve the ultimate moonlit glow. To preserve the color for longer, avoid washing your hair daily — applying dry shampoo in the right way will keep oils in check. When you do hop in the shower, steer clear of hot water. "Washing with cool water, or at the very least rinsing with a cool rinse after the fact, helps to close the cuticle," Chicago-based hair colorist Kristen Fleming explains to Real Simple.
Add a hint of blue to your braids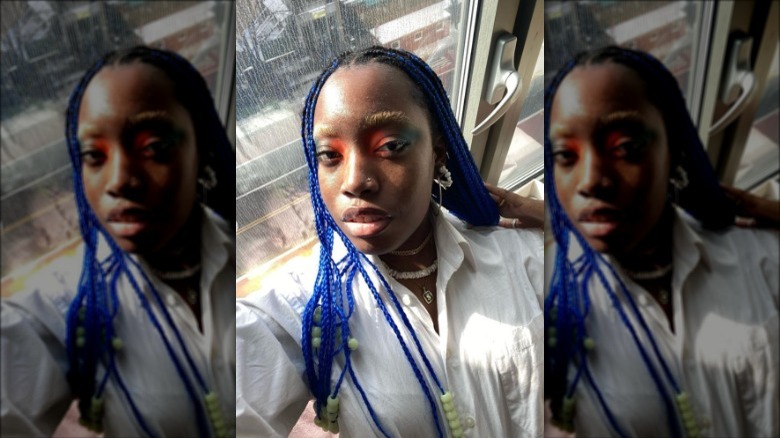 Knotless braids are having a moment. "With knotless box braids, you don't have a lot of weight, you don't have a lot of tension on your scalp, they're flatter on your head, and they look seamless," celebrity braider Susan Oludele tells Glamour. They're also better for your scalp health in the long run. Incorporate a hint of blue or purple into your next braided look — Alison (known under the handle @aioliisyum on TikTok) blends together individual strands of dark blue and black hair to create the perfect moonlight glow.
Opt for a moonlight ombré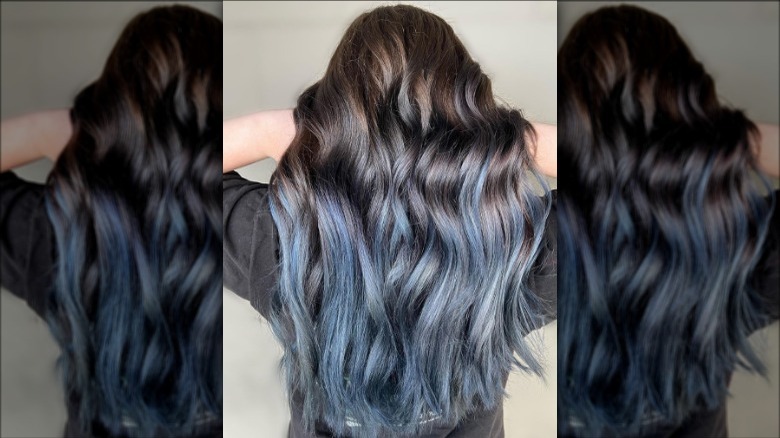 Beginning with naturally brown or black roots, ombré hair gets lighter on a gradient. Typically, dark brown evolves into light brown which then becomes blonde. Given the modern moonlights trend, switch up the traditional ombré aesthetic and opt for a blue or a purple color evolution. It's up to how much (or how little) you want to bleach your hair. If you're at all hesitant about changing up your look, ombré is the ideal option. Given that roots remain untouched, this style requires very little maintenance. Worst case scenario, you can always trim the ends...